Copyright Free Music | 7 Fantastic Places to Find Background Music for Videos, Podcasts and More (2021)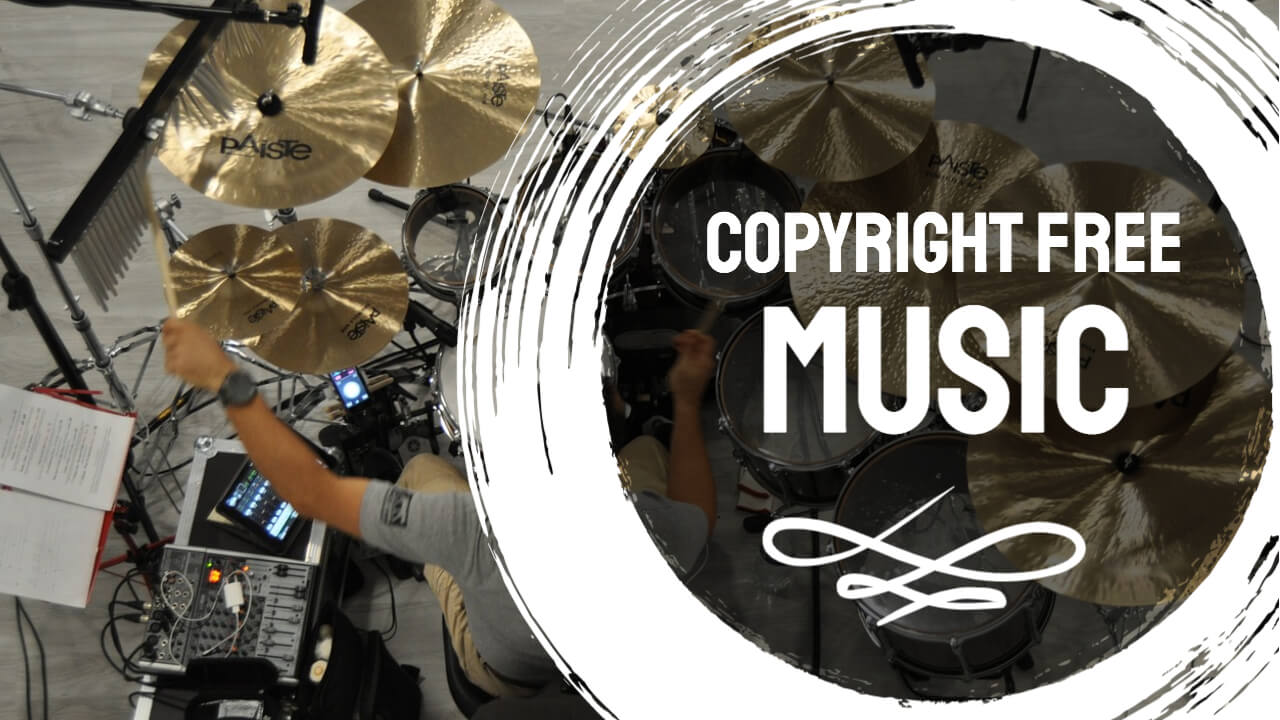 Are you looking for copyright-free music for your YouTube videos, TikTok, ads, Instagram, and other projects?
If so, then I think you'll find this list of resources quite valuable.
Some of these companies also provide royalty-free Sound FX and images. If you're looking for just sound FX's, I recommend checking out this article: Royalty-Free Sound Effects
NOTE: Even though these apps and services offer royalty-free music, you may still run into some copyright issues. Therefore, I've added a section of possible copyright difficulties you may encounter when using music from these sources and some suggestions to avoid said problems.
Copyright Free Music
First of all, what does Copyright Free mean?
In short, copyright-free music or royalty-free music can be used for both commercial and non-commercial usage without paying additional licensing fees and in many cases without paying any fees.
However, it is up to you to read the licensing agreements and fully understand each companies terms of service and or use.
Now with that out of the way, let's take a look and listen to some of these music services.
Free Music From Pixabay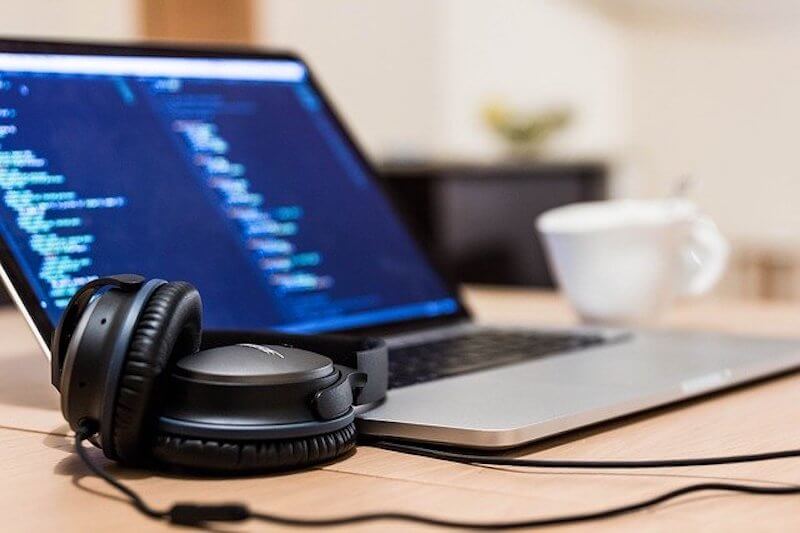 Price: Varies
What I Like: Easy to find what you're looking for.
Cons: You still may get copyright claims on YouTube and other platforms. (See Possible Copyright Problems for details.)
Pixabay is my number one go-to for free stock photos. But did you know they also provide free music for your video projects?
Pixabay's collection of songs is very easy to navigate and find what you're looking for. You can search by genre, mood, and movement.
If you're looking for some fresh sounds that you might not find anywhere else, then give them a try.
I personally never used Pixabay's music on any of my videos but they have some great stuff. I may consider using them in the future.
Facebook Sound Collection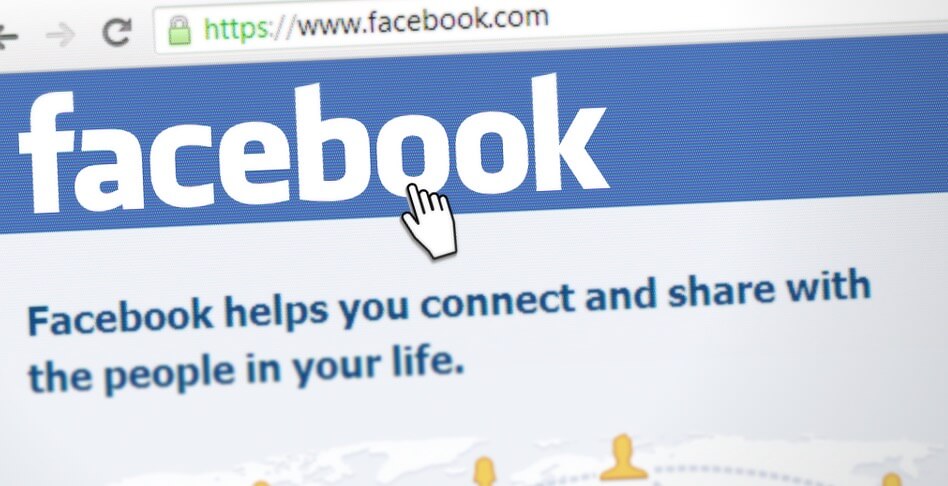 Price: Free
What I Like: Shouldn't get tagged with Facebook's copyright ID
Cons: For Facebook only
Over 7,034 songs and about 2000 sound effects for your Facebook videos
More info: business.facebook.com/creatorstudio/
AudioBlocks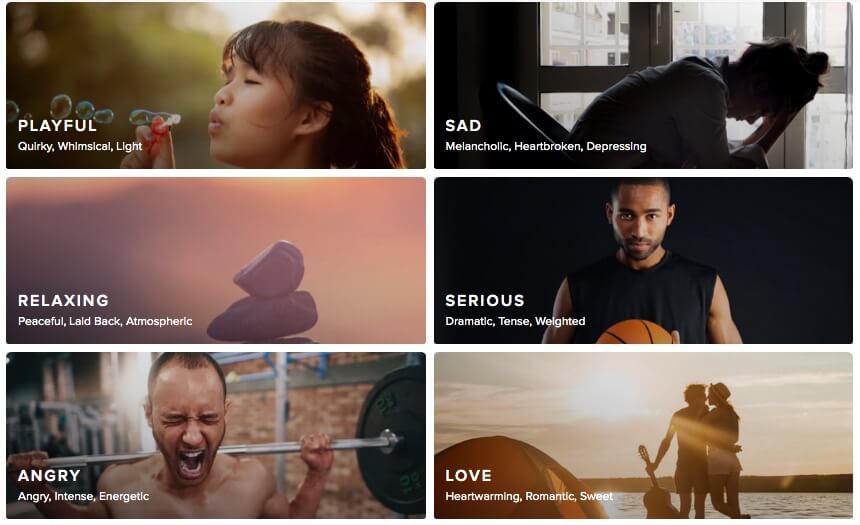 Price: $12.42 /month for music, sound FX, and loops.
What I Like: They are always adding new high-quality music.
All sound songs can be downloaded as WAV files or MP3 .
Unlimited Royalty-Free Music & SFX
Download all the music, sound effects, and loops you need with a low-cost subscription.
Genres: Ambient, Blues, Bumpers & Stingers, Chill Out, Cinematic, Classical, Corporate, Country, Electronic, Hip Hop, Holidays & Special Events, Horror, Jazz, Kids & Family.
Moods: Angry, Dark, Epic, Happy, Inspiring, Love, Playful, Relaxing, Sad, Serious.
Check them out: Audioblocks
Copyright Free Music Inside Garageband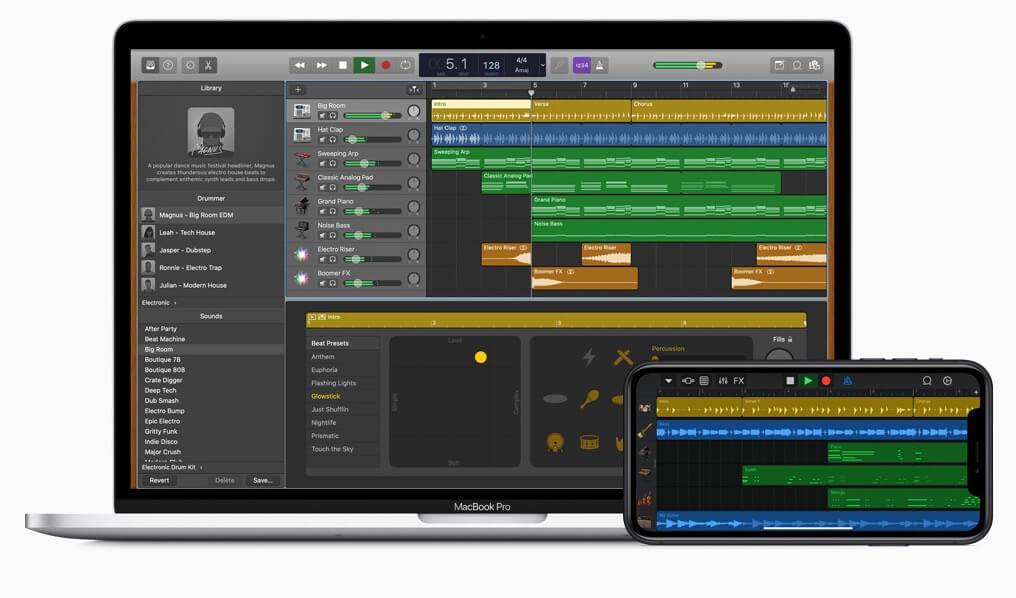 Price: GarageBand in iMovie are free programs for Mac users and come with 100's of Jingles that can be used royalty-free.
What I Like: Many variations of the same jingle. Short, medium, and long. Great for intros, outros, and full-length tracks.
If you're a Mac user you have thousands of free samples available to you within Garageband and iMovie.
Logic Pro X and Final Cut Pro X provide even more sounds.
These samples are also known as Apple Loops and have ended up in hit songs from Lady Gaga, Rihanna, and more.
The drum loop from Rihanna's "Umbrella" is Vintage Funk Kit 03, it could be found in the loop browser in GarageBand or Logic Pro X.

To find jingles in GarageBand or Logic Pro X open up the application and navigate to the apple loop browser and search for jingles.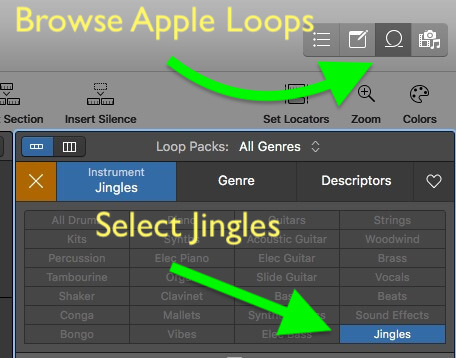 You will find a nice collection of jingles that are available in multiple lengths.
There are also variations of the same jingle that makes it great for intros outros and longer projects.
Tip: You are so fine thousands of sound effects inside the loop browser as well.
Download More Free Sounds
You can download additional sounds from within GarageBand, Logic Pro, Final Cut Pro, and iMovie. They don't install all these samples on your computer from the factory because they take up a lot of space on your hard drive.
New free sound packs are available periodically as well.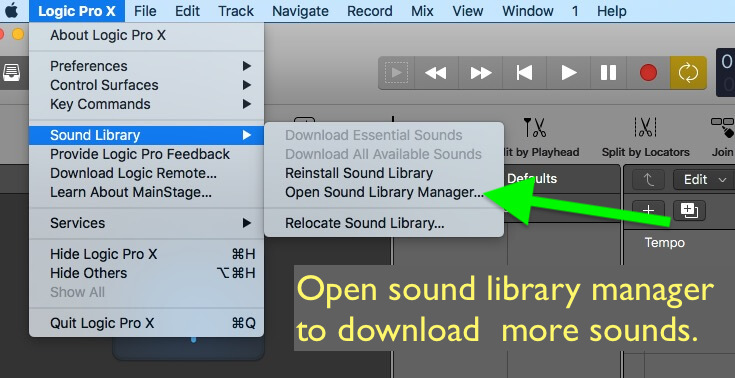 Find Free Jingles On Your Mac
Here's a quick way to find the jingles on your Mac without opening any applications. You will still need to open the programs to download any additional sounds that are available as mentioned above.
First, go to your hard drive (YOUR HARDDRIVE NAME) then /Library/ Audio/Apple loops/Apple. Inside the Apple folder, you will find many other folders appropriately named to sound category.

YouTube Audio Library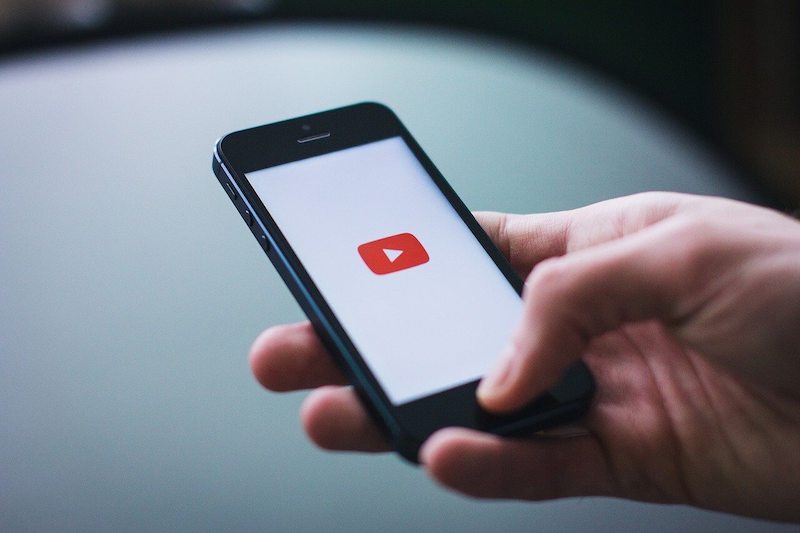 Price: Free
What I Like: Awesome high-quality songs pre-cleared to use on YouTube without the threat of copyright claims.
Note: For use on YouTube videos only.
YouTube audio library is your most reliable source for your YouTube videos. Why? You're less likely to get copyright claims on your videos because YouTube already has clearance for these songs. (See more about copyright claims below.)
With YouTube's audio and sound library you can find free music by genre, mood, instrument, duration, and attribution. They also provide free sound FX.
NOTE: Some songs state you must give credit to the artist in your video descriptions.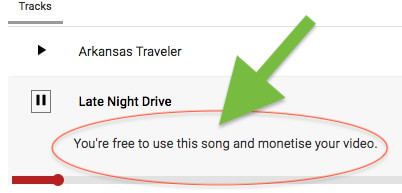 Search there library here: Youtube Audio Library
Unminus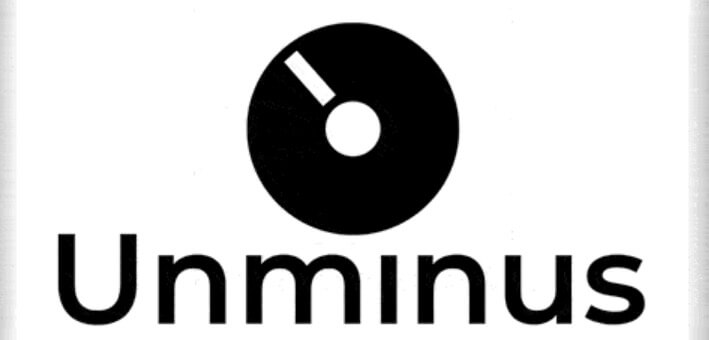 Price: Free
Cons: Limited collections of songs.
What I Like: Music that is published to YouTube Content ID or Facebook Content ID Network is not eligible for submission.
Looking for some happy, grimy, energy, heavy, chilled, or sad songs? Check out Unminus.
Unminus offers songs that aren't available on YouTube or Facebook's libraries, So you're likely to find some unique offerings here.
Make Your Own Music Fast & Easy with SessionBand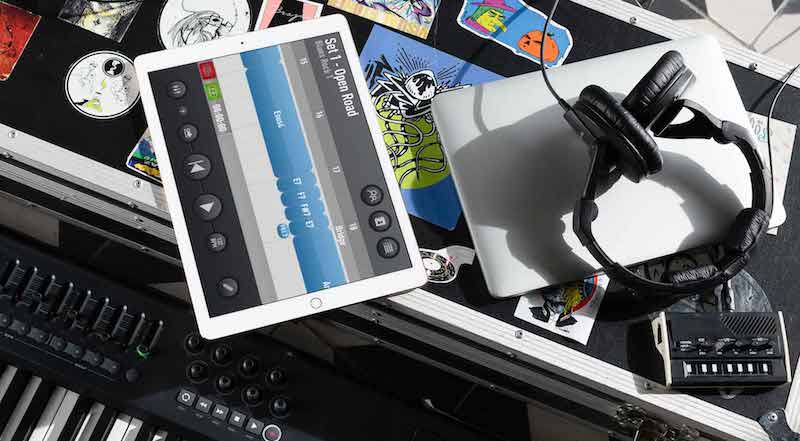 Price: Varies, Typically around $1.99 to $9.99 Can also be bought in bundles.
What I like: Inexpensive, very simple to use, and creates awesome sounding music.
Cons: iOS only (wave files of the collection are sold separately but are only for experienced users)
Create studio-quality Soul, Jazz, Funk, Rock, Pop, Country, Blues, Ukulele music, EDM, Piano, acoustic guitar tracks, and more in a few minutes.
Session band app for iOS so quick and easy way to make music for your backing videos and such.
Each app is sold separately but they are relatively inexpensive. Heres what collections they offer:
Soul Jazz Funk  Vol 1, Jazz Vol 1,2, & 3, Rock, Country, Ukulele, Acoustic Guitars Vol 1 & 2, Piano Vol 1 & 2, EDM, Deep House, Blues, Drums, And their original SessionBand app that has mixed styles such as Pop and Reggae.
Anyone can create and release professional tracks with SessionBand.
Here's a quick demo of the Soul Jazz Funk Vol. 1 SessionBand app. Just enter a few chords and how long you want the song to be and it magically creates a track for you. ( VIDEO REMOVED)
Possible Copyright Problems
One of the biggest problems with using stock music and effects is that you will sometimes still get copyright claims on YouTube.
First a disclaimer: I am not an attorney and this is not legal advice. This is just some information based on my experience with YouTube copyright claims over the last 8 years.
Watch the video below for some best practices to avoid some of these problems.
Every now and then I'll get a copyright claim that looks like something like this.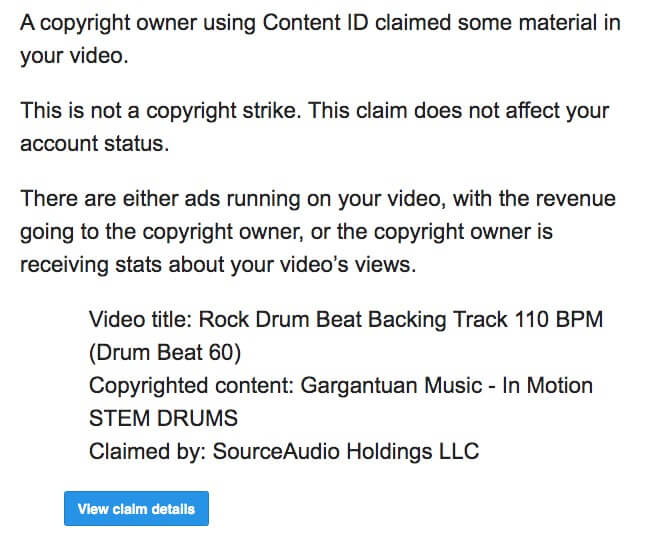 In this case, I know that the music that I used is royalty-free and I'm able to file a counterclaim.
For this example, the music in question was created with the iOS app SessionBand so I simply reply with a message like this:
This video was made with the loops and sounds from the iOS app SessionBand and incorporates sounds and loops under a non-exclusive license agreement. Therefore the video does not infringe anyone's copyright. Please release this claim.
After filing the counterclaim, the company or person has up to 30 days to review the information you provided and take action. If they agree with your dispute, they can release the claim at any time. If they disagree, they can choose to uphold it, and the claim will remain active on your video.
After filing a counterclaim.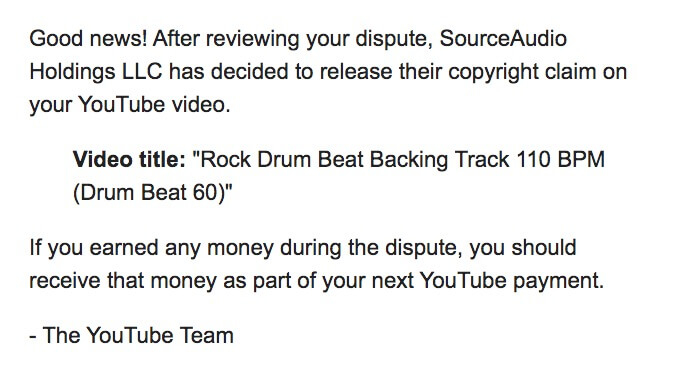 More on YouTube copyright claims.
Conclusion
I hope you discovered some valuable resources for your upcoming projects.
Have you used any of these copyright-free music services?
What other services have you tried?
Have you had any problems with copyright claims?
Share your experiences in the comments.
Related Posts:
5 Free Headline Writer Tools Every Blogger Needs To Generate Captivating Headlines
Best Royalty-Free Sound Effects Resources For Content Creators