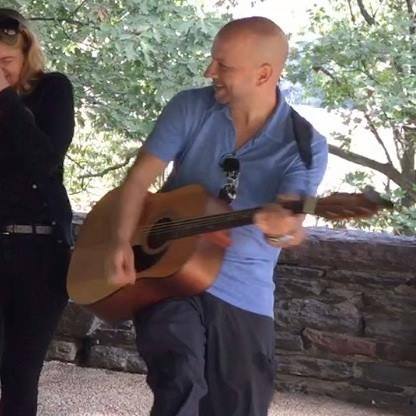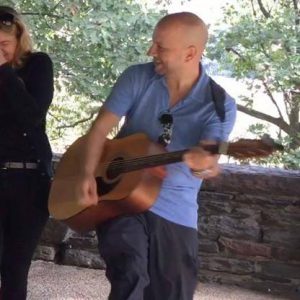 Hello, Greg here. I'm a musician, songwriter, and self-produced recording artist. That's me in the photo playing outdoors in
 New York City
's Fort Tryon Park.
Music is my first passion. My other passions include creating websites with WordPress, affiliate marketing, writing reviews, running YouTube Channels, personal development and a lot of other creative adventures. I've taken many online courses and read many books on said subjects over the last 15 years.
I run several niche websites and acquired lot's of SEO and affiliate marketing skills over the last 15 years. I started Affiliate-Marketing-Biz.com to be a useful resource in answering the most common questions people ask me about making money online. I don't condenser myself a guru, but I do have the experience to help others.  I'll be doing book reviews here soon, so stay tuned.
This website is to inform others about:
More recently I came across what I thought was a Web hosting company, Wealthy Affiliate, but it turns out it was so much more. Feel free to take my "An Inside Look at Wealthy Affiliate" Video to see what I mean. You also may like my "The Wealthy Affiliate Scam" post. No worries it's not a scam.
I'm not going to make big promises that you can make a lot of money quickly, but I will tell you if you put the time in and get over the learning curve you can make a nice income. It's really up to you and how much time you invest in yourself.  Better yet once you learn all the tools and skills it becomes much easier to build websites and make money. It's really up to you.
Learn How to Get Started and Work From Home, or work from anywhere for that matter. You'll Get Free Affiliate Marketing Training & 2 Free Websites.
Greg