How do I get free traffic to my website? Getting traffic to your website is essential to your success as a website owner. There are plenty of people and services that will charge you a lot of money to help drive traffic to your website. Here are a few ways on how to increase traffic on your website for free.
Most of these tools I use to increase my website traffic are also on my Top Free Affiliate Marketing Tools List. Others are techniques I learned from my friends within the Wealthy Affiliate Community.
Use WordPress & Set Up SEO Properly
WordPress and The All In One SEO Plugin
According to Google, if your using WordPress, 80 to 90% of your SEO (search engine optimization) is already taken care of. This is one of the many reasons I use and recommend WordPress for all my websites.
Not only is WordPress free, it's easy to install and use.
Learn How To Install WordPress in 30secs: Build your own website.
The All In One SEO Plugin
Technically, you don't even need an SEO plug-in but The All In One SEO WordPress plugin simplifies many things including creating a sitemap for your website. A sitemap is essential for Google and other search engines to craw and learn about your site.  Other features include linking your site to Google & Bing's Web Master Tools.
Fast And Secure Web Hosting
Before you can install WordPress & The All In One SEO Plugin you will need a great, safe, and fast web hosting provider. Many people in the affiliate marketing space recommend BlueHost. I used Blue Host for about 10 years but switched to SiteRubix/Wealthy Affiliates Hosting due to upselling, declining customer support, and many other reasons.
Plus WA had so many more benefits including ongoing education, mentorship and a large network of other affiliate marketers.
With SiteRubix/Wealthy Affiliates Webhosting, you can get 2 Free SiteRubix websites, a 30-second install of WordPress and The All In One SEO Plugin is preinstalled.
Not only that but you get a Full Affiliate Marketing Education and can network with a huge community of successful mentoring entrepreneurs that can help you with your online business.
Organic Traffic Keywords
Organic web traffic is one of the best ways to get free traffic to your website, typically this is done by doing keyword research. A keyword research tool such as Jaxxy will help you determine what people are searching for and how many results are showing up for certain keywords. The benefit of doing keyword research is to try to outrank your competition for your chosen keywords.
Without doing proper keyword research, you're more than likely not going to get too much traffic to your website. It's like throwing a needle in a haystack and hoping someone can find it.
Proper keyword research involves doing a technique called the low hanging fruit. The low hanging fruit technique involves searching for keywords that have a lot of searches but not too many quoted search results (QSR). The best way to do this is to use a keyword research tool.
In this example, I use the keyword/phrase "what is a low carb diet".

The Jaxxy keyword research tool will list hundreds of keyword phrases, related phrases, and even more brainstorming ideas for any given keyword/phrase. This screenshot is only showing the top three.
Avg is the average amount of searches and a 30 day. Traffic is what kind of traffic you can expect to your site when you get on the first page of Google for this keyword. QSR is the quoted search results.
As you can see there is only 103 quoted search results for that phrase. Therefore we are getting a great score and a high chance that you could rank for those keywords. Also, note that the domains .com,  .net, and .org are also available for that keyword/phrase.
Once you find good keywords for your topic, you simply write articles around these keywords. When people do a search in Google, you have a better chance of ranking on the first page due to the fact that there's not as much competition with your keyword. That's probably how you found this page.
Internal Linking
Internal linking is the prosses of linking to other pages or post within the same website. For example, many links within this article led to another article on this site. Just make sure you're linking to relative content and not just linking to articles for the sake of internal linking.
Wikipedia does a great job of internal linking. They have so many internal links on their site. All the blue text are internal links in the photo below.
I also have internal links sprinkled throughout this article.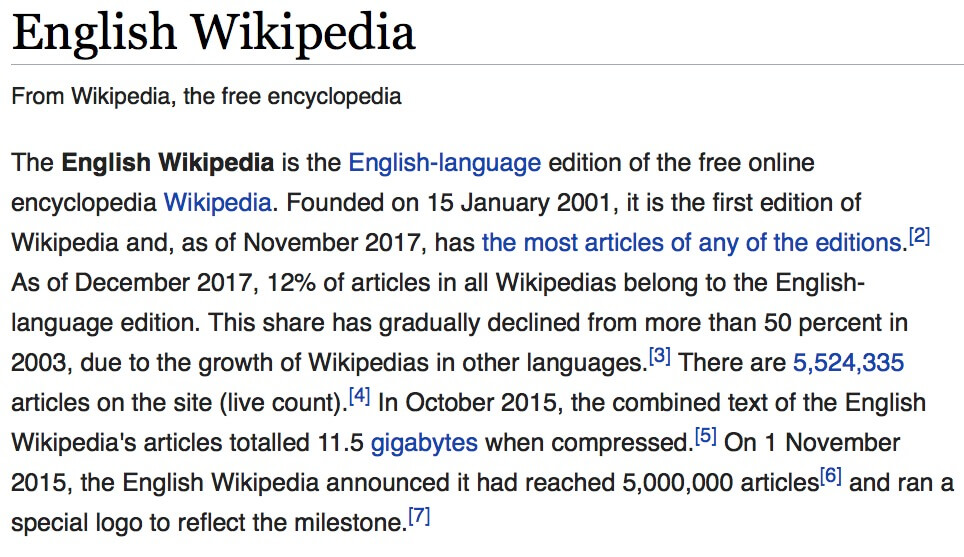 Social Media Traffic
Using social media such as YouTube, Pinterest, Instagram and others is a great way to get free traffic to your website. YouTube especially will help with SEO since it is owned by Google and Google plays friendly with other Google products. Plus having a video on your web blog post will keep people on your website longer which also leads to better rankings and Google.
I always try to make a video for my blog posts using the same keywords and include that video in the blog post. Plus a link to your blog post in the video description on YouTube will help drive traffic from YouTube to your website. YouTube is also a search engine so it can increase your rankings.
My Top 12 Social Share Places
Yes, there are 100's of other places to share. List your favorite social networks to share your blog post below.
Focus on one or two of these Social Network platforms before diving into others. This will keep you from getting overwhelmed by all the different platforms. I tend to stay away from services that posts to multi social networks at once. I take the time to format images, text and more for each service. It looks better and is more professional.
Top 12 In no practical order:
YouTube
Google Plus
Facebook Groups and Pages
Guest Blogging
Reddit
Weebley
Tumblr – Great For Yahoo Searches
Linked In
Pinterest. You can create many images for the same post.
Twitter. Repost old content.
Forums. Answer questions and link your site.
Instagram
Comments
Comments on your webpage will also help with your SEO as they will add additional content and add additional word count/length to your blog posts. This tells Google and other search engines that this is an active post. In return, you can get higher rankings. This is more important for high competition keywords.
Always reply to comments. This will keep the conversation going and encourage others to comment if you respond.
Backlinks
Backlinks is another way to get higher rankings and Google. Better rankings equal more traffic to your webpage. Backlinks will happen naturally over time as people share your website. A few easy backlinks you can make yourself would be to share your links on Facebook, Pinterest, Google plus and the other social networks I mentioned above.
Get A Free Membership To Wealthy Affiliate
Get a free start a membership to Wealthy Affiliate. Signing up for a free start a membership to Wealthy Affiliate itself will not boost your rankings and traffic to your website, the education, the support, the community and the tools they offer will benefit you greatly.
You'll get 2 Free websites with 30-second Installs of WordPress/ All in one SEO plugin. A wealth of free training and a helpful community of people to learn and network with.